Chicken
Tikka

DESCRIPTION
Super BBQ Spice Blend
PACKAGING
50g Serving Suggestion
Ingredients
Salt
Red Chili
Paprika
Turmeric
Aniseed
Cinnamon
Cumin
Brown Cardamom
Black Pepper
Star Aniseed
Ginger
Dried Papaya Powder
Maltodextrin
Hydrolyzed Soy Protein
Sugar
Canola Oil
Citric Acid
Sodium Phosphate
Silicon Dioxide
Allergy Guide
May contain traces of Sulphite, Sesame, Mustard, Gluten and Tree Nuts.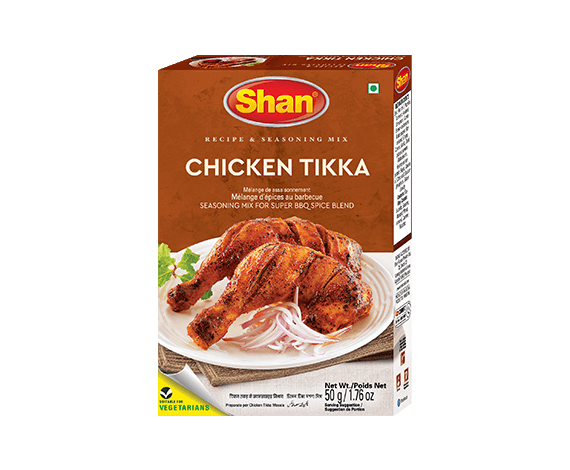 Nutritions Facts
| | |
| --- | --- |
| | |
| | |

% Daily Value*
Total Fat
1g
1%
Saturated
0g
0%
Trans
0g
Cholesterol
0mg
0%
Sodium
1650mg
72%
Total Carbohydrate
2g
1%
Dietary Fibre
1g
4%
Sugars
0g
Protein
1g
Vitamin D
0%
Calcium
0.4mg
4%
Iron
1mg
6%
Potassium
2%
* The % Daily Value (DV) tells you how much a nutrient in a serving of food contributes to a daily diet. 2,000 calories a day is used for general nutrition advice.
*Percent Daily Values are based on a 2,000 calorie diet.
COOKING
RECIPE

As per 50 gram
Ingredient Required
Chicken Skinless
1½ kgs / 3.3 lbs
8-10 portions, make 2-3 slits on each

Lemon Juice
8-10 tablespoons


Cooking Oil/ Melted Butter
6 tablespoons

Shan Chicken Tikka Mix
1 packet
do not mix in water

Steps of Cooking
Mix together Shan Chicken Tikka Mix, lemon juice and 2 tablespoons oil. Apply on chicken pieces and marinate for 3 hours +.
Put each portion of chicken on skewer and place it on low heat of charcoal / gas grill.
Grill evenly on each side until meat is tender and done. Apply butter before removing from heat.
Serving Suggestions:
Serve hot Chicken Tikka with fresh green salad, sliced onion, tomatoes and Shan Tamarind / BBQ / Green Chutney.
Grilled Chicken Tikka
Follow the above Chicken Tikka recipe upto step No. 1.
Place chicken pieces in a frying pan and grill on high heat for 3 minutes on each side. Apply butter, cover and cook on low heat for 10 minutes.
BBQ