Mandhi

PRODUCT DESCRIPTION
Arabic Meat Layered Pilaf With Fried Onions
PACKAGING
50g Serving Suggestion
Package List
| TYPE | FORMAT | SIZE |
| --- | --- | --- |
| SP | Powder | 50g |
Ingredients
Salt
Black Pepper
Garlic
Ginger
Cumin
Coriander
Onion
Maltodextrin
Citric Acid
Turmeric
Silicon Dioxide
Allergy Guide
May contain traces of Sulphite, Sesame, Mustard, Gluten and Tree Nuts.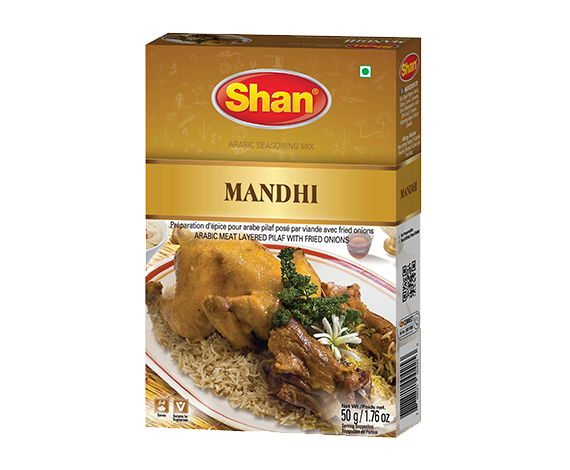 Nutritions Facts
| | |
| --- | --- |
| | |
| | |

% Daily Value*
Total Fat
1g
2%
Saturated
0g
0%
Trans
0g
Cholesterol
0mg
0%
Sodium
1420 mg
59%
Total Carbohydrate
Dietary Fibre
3g
1%
Sugars
0g
Protein
1g
Vitamin A
2%
Vitamin C
2%
Calcium
0%
Iron
0%
Percent Daily Values are based on a 2,000 calorie diet.
COOKING
RECIPE

As per 50 gram
Ingredient Required
Chicken/Lamb/Mutton
2kg
whole dressed chicken or large meat portions

Rice Parboiled
3 tea cups / 750g
washed soaked for 30 minutes & drained

Onions
2 medium / 200g
sliced
Cooking Oil
1 tea cup / 175 ml


Shan Mandhi Mix
1 Packet


Steps of Cooking
Dissolve Shan Mandhi Mix in one cup of water and add 2-3 tablespoons oil / butter. Mix and apply to meat.
Pour 2 cups of water in a tightly closing pot or pressure cooker and bring to boil. Place the meat in it. Cover tightly and cook on low heat for: chicken 1-1½ hour, lamb / mutton 2- 2½ hours.
Remove from heat. Separate meat and stock.
Heat 2-3 table spoons oil/ butter and fry the meat from all sides for 2-3 minutes and keep aside.
In the meat stock add enough water to make it 3½ cups. Keep this aside.
Heat remaining oil/ butter and fry the sliced onion till light brown.
Add the 3½ cups of meat stock and drained rice. Bring to boil, and then reduce heat to low. Cover tightly and cook for 15 minutes on low heat.
Remove cover and fluff the rice with a fork. Place the meat on it. Cover and cook for 5 minutes or till the rice is tender. Put the rice in a dish and place the chicken / lamb / mutton over it.
Arabic