Boeuf
Hunter

description du produit
le mélange de bœuf shan hunter vous aide à préparer du corned beef à la pakistanaise pour un régal sain.
EMBALLAGE
150g
Ingrédients
Le Sel
Brown Sucre
Feuille de laurier
Poivre noir
Cardamone brune
Canelle
Clove
Gingembre
Séché Papaya Powder
Cumin
Allspice
Humectant: Sodium Phosphate
Maltodextrin
Anticaking Agent: Silicon Dioxide
Guide des allergies
May contain traces of Sulphite, Sesame, Mustard, Gluten and Tree Nuts.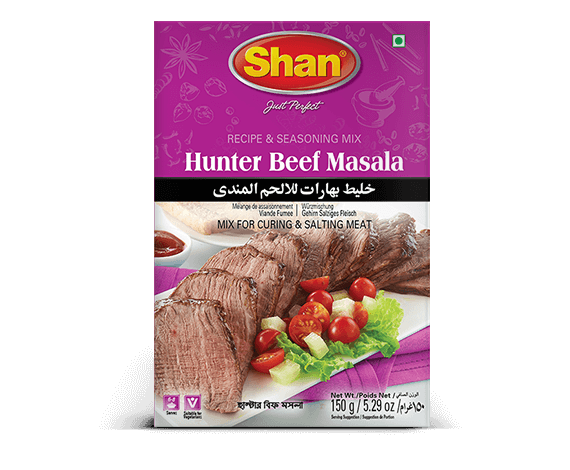 RECETTE
DE CUISINE

Selon 150 grammes
Ingrédient requis
Boeuf
1 kg single boneless portion fresh
clean & unrefrigerated

Jus de citron
3 tablespoons
2 lemons

Shan Hunter Boeuf Masala Mix
1 packet

Étapes de la cuisson
Mélangez le jus de lime et le mélange Shan Hunter Beef Masala. Frottez-le soigneusement sur la viande. Et placez-le dans un bol en plastique ou en acier inoxydable propre. Conservez le bol au réfrigérateur pendant 2-3 jours.
Le 3e / 4e jour, jetez le liquide recueilli dans le bol et placez la viande dans une grande casserole. Couvrir d'eau fraîche à environ 3 pouces au-dessus de la viande. Faire bouillir à feu doux pendant 6 à 8 heures. Retirez ensuite la viande du bouillon. Récupérez la graisse fondue du bouillon et jetez le liquide restant.
Appliquez plusieurs couches de graisse / ghee collectées sur la viande.