Lauki
Halwa
Mix

Product Description
Mix for Marrow Gourd and Milk Dessert
PACKAGING
100g Serving Suggestion
Ingredients
Dry Milk Solids (Milk)
Sugar
Corn/wheat Flour (Wheat)
Patent Flour (Wheat)
Pistachio (Tree Nuts)
Dextrose Powder
Green Cardamom
Cinnamon
Salt
Saffron
Allergy Guide
May contain traces of Tree Nuts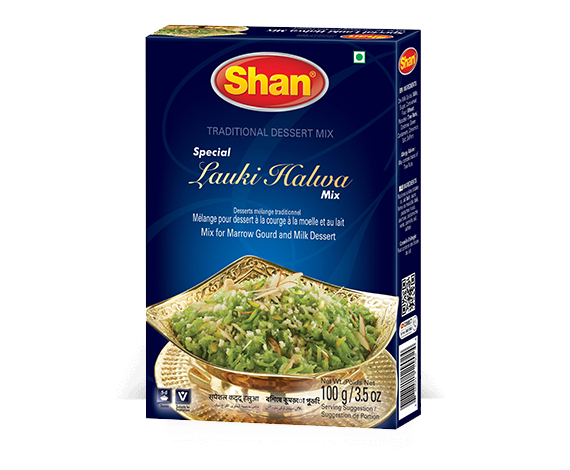 Nutritions Facts
Serving size

4 tbsp (17 g)

% Daily Value*
Total Fat
4 g
6%
Saturated
2 g
10%
Trans
0 g
Cholesterol
45mg
3%
Sodium
8 mg
2%
Total Carbohydrate
0 g
3%
Dietary Fibre
0 g
0%
Sugars
6 g
Protein
3 g
Vitamin A
2%
Vitamin C
2%
Calcium
10%
Iron
2%
*Percent Daily Values are based on a 2,000 calorie diet.
COOKING
RECIPE

As per 75 gram
Ingredient Required
Fresh Lauki/Gourd
500g
peeled and finely shredded

Sugar
¾ Cup (150g)

Ghee/Pure Desi Ghee
1 Cup (175g)

Shan Special Lauki Halwa Mix
1 packet


Steps of Cooking
Add Sugar to the shredded Lauki/Gourd and cook on medium heat cook until all the liquid dries up.
Add ghee and stir fry for 2-3 minutes.
Add Shan Special Lauki Halwa Mix and stir continuously. Cook for 3-5 minutes and serve hot.
Desserts