Kabuli
Rice

DESCRIPTION
Arabic Mild Pilaf With Pine Nut And Raisins
PACKAGING
50g Serving Suggestion
Package List
| TYPE | FORMAT | SIZE |
| --- | --- | --- |
| SP | Powder | 70g |
Ingredients
Salt
Cane sugar
Cumin
Fennel
Coriander
Black Pepper
Green Cardamom
Cinnamon
Clove
Ginger
Garlic
Maltodextrin
Pine Nuts
Anticaking Agent: Silicon Dioxide
Allergy Guide
May contain traces of Sulphite, Sesame, Mustard, Gluten and Tree Nuts.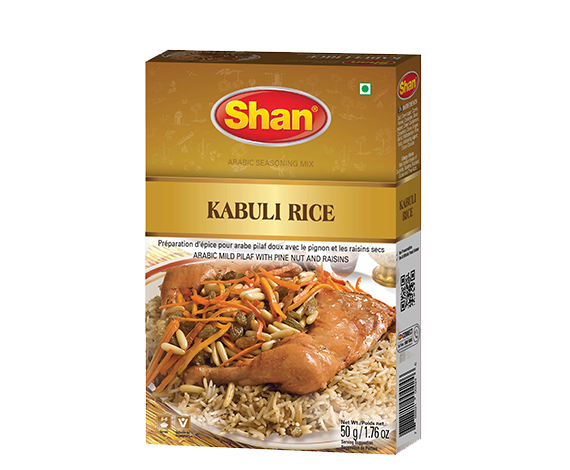 Nutritions Facts
| | |
| --- | --- |
| | |
| | |

% Daily Value*
Total Fat
1g
2%
Saturated
0g
0%
Trans
0 g
Cholesterol
0mg
0%
Sodium
1650 mg
51%
Total Carbohydrate
4g
1%
Dietary Fibre
1g
4%
Sugars
3g
4%
Protein
1g
Vitamin D
0mg
0%
Calcium
0%
Iron
0.4mg
2%
Potassium
0%
* The % Daily Value (DV) tells you how much a nutrient in a serving of food contributes to a daily diet. 2,000 calories a day is used for general nutrition advice.
*Percent Daily Values are based on a 2,000 calorie diet.
COOKING
RECIPE

As per 70 gram
Ingredient Required
Chicken/lamb
750g
large meat portions
Rice Parboiled
750g
washed and soaked for 2+hours

Onions
200g/2
medium sliced
Carrots
200g
sliced into thin match stick size and shape

Sugar
2 tablespoons

Orange Juice
½ tea cup

Raisins
4-5 tablespoons


Cooking oil/melted butter
200ml/1 cup


Hot Water
3 tea cups

Shan Kabuli Rice Mix
1packet


Steps of Cooking
Heat oil, stir-fry onion until light golden.
Add meat, stir-fry for 2-3 minutes. Add Shan kabuli Rice Mix, Raisins and stir.
Add orange juice and 1-2 cups of water. Bring to boil then reduce heat to low. Cover and cook (chicken 30 minutes, lamb/mutton 45 minutes) until meat is tender.
Add drained rice and 3 cups of hot water and bring to boil. Cover tightly (with aluminum foil) and cook for exactly 15 minutes on medium heat.
Remove cover, fluff rice with a fork and cover. (Note: if the rice is not tender sprinkle ½ cup of hot water over it). Cover and cook on low heat for 10 minutes.
Separately: On high heat stir-fry carrots in 2-3 tablespoons butter for 2-3 minutes. Then add sugar. Stir-fry continuously for 1-2 minutes. Remove from heat and set aside.
Put the rice in dish and place the cooked meat over it. Add the fried carrots over the rice.
Arabic