Dahi
Bara
Mix

Product Description
Mix For Lentil Dumplings In Yogurt
PACKAGING
150g Serving Suggestion
Package List
| TYPE | FORMAT | SIZE |
| --- | --- | --- |
| SP | Powder | 150g |
Ingredients
Lentils/Pulses/Wheat/Rice Flour
Salt
Red Chili
Cumin
Fenugreek Leaves
Black Pepper
Ginger
Garlic
Leavening Agent: Sodium Bicarbonate
Asafoetida
Citric Acid: Acid
Maltodextrin
Hydrolyzed Soy Protein
Cane Sugar
Canola Oil
Anticaking Agent: Silicon Dioxide
Allergy Guide
May contain traces of Sulphite, Sesame, Mustard and Tree Nuts.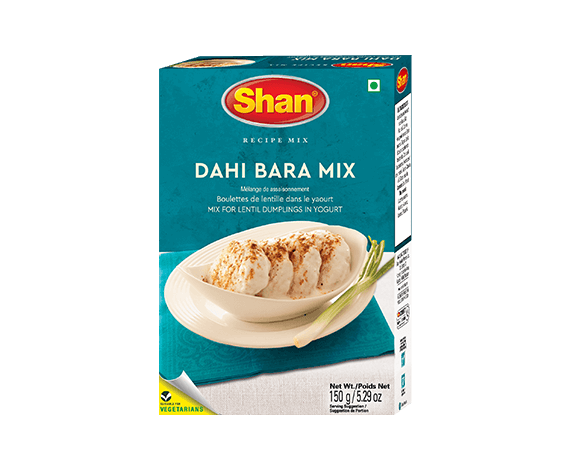 Nutritions Facts
| | |
| --- | --- |
| | |
| | |

% Daily Value*
Total Fat
0g
0%
Saturated
0g
0%
Trans
0g
Cholesterol
0mg
0%
Sodium
450mg
20%
Total Carbohydrate
22g
8%
Dietary Fibre
5g
18%
Sugars
0g
Protein
2g
Vitamin D
0mcg
0%
Calcium
26mg
2%
Iron
0%
Potassium
0mg
0%
* The % Daily Value (DV) tells you how much a nutrient in a serving of food contributes to a daily diet. 2,000 calories a day is used for general nutrition advice.
COOKING
RECIPE

As per 150 gram
Ingredient Required
Plain Yogurt
2 ½ cups / 500g
sieved through muslin cloth & refrigerate

Oil / Ghee
3 cups / 500ml
for deep frying
Sugar, Powdered
1-2 tablespoons


Shan Dahi Bara Mix
1 packet


Steps of Cooking
Mix one cup of luke warm water in Shan Dahi Bara Mix to make a smooth batter. Set aside for 15-20 minutes.
In hot oil, pour tablespoons full of batter separately. Fry on medium heat till light golden. Remove and allow to cool.
Refry the dumplings in medium hot oil until golden brown and remove. Spread to cool for few minutes. Then soak in lukewarm water for 10-15 minutes. Drain water and gently squeeze out the excess water.
Add powdered sugar to the cold yogurt. Stir to dissolve the sugar and add the dumplings. 
SERVING SUGGESTIONS:
Garnish with Shan Dahi Bara Chaat  Masala.
TIPS FOR BEST RESULTS
If the Dahi Baras become hard or have a hard core inside; then before adding to the yogurt boil them in water until soft. Fried Dumplings can be stored in Deep Freezer and used by putting in boiling water.
Fried