Sambar
Masala

DESCRIPTION
Seasoning Mix For Meat & Lentil Mix
PACKAGING
50g Serving Suggestion
Ingredients
Pigeon Pea
Coriander
Salt
Black Gram
Split Chickpea
Cumin
Turmeric
Fenugreek
Chilli
Sugar
Curry Leaves
Asafoetida
Silicon Dioxide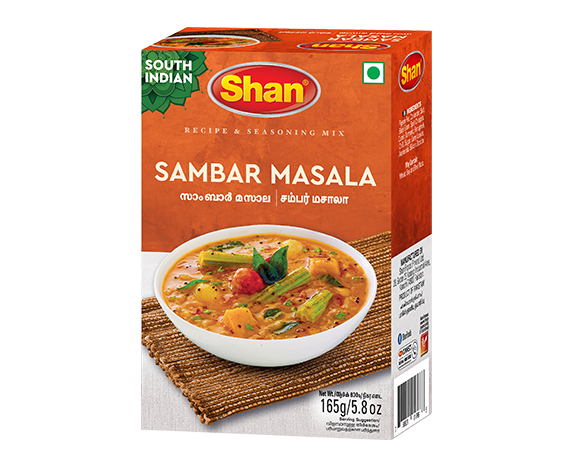 COOKING
RECIPE

Steps of Cooking
Add 3-4 cups of water in a pan and boil.
Add Onions, Tomato, Saijan ki phalli (Drumstick), Loki (Bottle Gourd), Peas and Shan Sambar Masala. Cook on low heat for 1-1 ½ hours.
Add tamarind water and cook on low heat for 5 minutes, add salt to taste.
Separately heat oil, add curry leaves, mustard seeds and stir fry for few seconds. Then spread over the gravy.
South
Indian