Ras
Malai

Product Description
Shan Ras Malai mix enables you to make traditional velvety textured dessert at home, which you just won't be able to resist.
PACKAGING
100g
Ingredients
Milk Solids (Milk)
Patent Flour (Wheat)
Corn Starch
Blend of Vegetable Oils (Canola & Soy bean)
Pistachio (Tree Nuts)
Sodium Bicarbonate
Tartaric Acid, Saffron
Natural & Artificial Food Flavors (Screw Pine)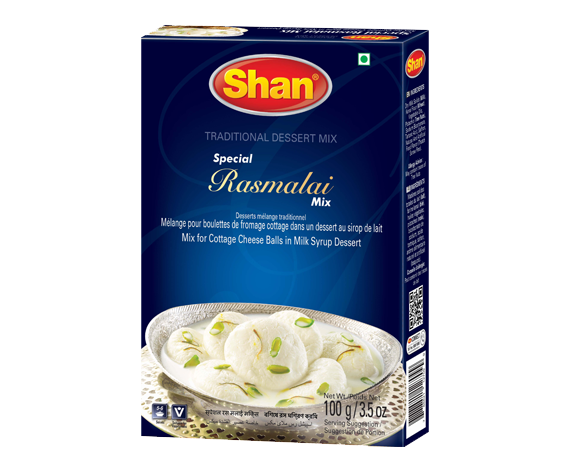 Nutritions Facts
Serving size

2 tbsp (20 g)

% Daily Value*
Total Fat
3 g
5%
Saturated
0 g
0%
Trans
0 g
Cholesterol
0 mg
0%
Sodium
200 mg
8%
Total Carbohydrate
8 g
3%
Dietary Fibre
0 g
0%
Sugars
5 g
Protein
3 g
Vitamin A
0%
Vitamin C
2%
Calcium
2%
Iron
0%
*Percent Daily Values are based on a 2,000 calorie diet.
COOKING
RECIPE

As per 100 gram
Ingredient Required
Milk
750ml

Sugar
1/3 cup (75g)

Eggs
1
whisked

Oil/Ghee
1 tablespoon


Shan Ras Malai
1 packet (75g)


Steps of Cooking
Add sugar to milk and boil for 10 minutes.
Separately: Mix together Shan Rasmalai Mix, Ghee/Butter and Egg. Knead and make soft dough (If necessary add 1 table spoon of water).
Make about 15 small round / flat / oval shape balls. Immediately, put them in boiling Milk. Increase the heat, so that the milk remains boiling. (The balls will become hard, if they are not immediately added to the boiling Milk).
Take a round sieved frying spoon and turn the balls by rotating bottom edge of the spoon against the top of the balls. Keep rotating until the balls swell by about 4 times their original size.
For thin Milk syrup remove from heat and serve cold. For thick Milk syrup, continue to boil for 10 minutes on medium heat until the syrup thickens. Remove and serve cold.
Desserts