Bihari
Kabab

Product Description
Shan Bihari Kabab Mix makes your BBQ platter special as you recreate the ethnically authentic Bihari Kababs at home.
PACKAGING
50g
Package List
| TYPE | FORMAT | SIZE |
| --- | --- | --- |
| SP | Powder | 50g |
Ingredients
Coriander
Red Chili
Paprika
Salt
Ginger
Garlic
Muskmelon
Dehydrated
Onion
Long Pepper
Carom
Bay Leaf
Black Cumin
Black Pepper
Green Cardamom
Cumin
Dill Seed
Acid: Citric Acid
Maltodextrin
Hydrolyzed Soy Protein
Cane Sugar
Canola Oil
Anticaking Agent: Silicon Dioxide
Allergy Guide
May contain traces of Sulphite
Sesame
Mustard
Gluten and Tree Nuts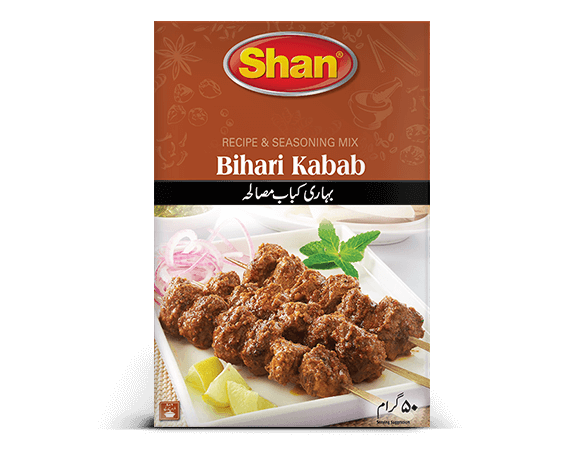 Nutritions Facts
| | |
| --- | --- |
| | |
| | |

% Daily Value*
Total Fat
1 g
2%
Saturated
0g
0%
Trans
0g
Cholesterol
0mg
0%
Sodium
1450 mg
60%
Total Carbohydrate
3g
1%
Dietary Fibre
2g
8%
Sugars
0g
Protein
1g
Vitamin A
2%
Vitamin C
2%
Calcium
2%
Iron
2%
Percent Daily Values are based on a 2,000 calorie diet.
COOKING
RECIPE

As per 50 gram
Ingredient Required
Meat
1 kg
boneless small cubes

Onions
3 tablespoons
finely crushed
Ginger Paste
2 tablespoons


Garlic Paste
2 tablespoons


Plain Yogurt
½ cup
whipped

Oil/Ghee
3-4 tablespoons


Shan Bihari Kabab Mix
1 packet


Steps of Cooking
Mix Shan Bihari Kabab Mix, fried onions, ginger, garlic, yogurt and ghee/oil. Apply on meat. Set aside for 3-4 hours or overnight.
Thread meat on skewers and grill on very low heat until the Kababs are well done and brown on all sides. Turn the skewers periodically to grill evenly. If kababs fall, wrap a thread around them.
Serving Suggestion:
Serve with Tamarind chutney and onion rings rinsed in cold water. Note for frying onions: Deep fry the onions in hot oil until golden. Remove from ghee/oil and spread on an absorbent paper. Allow to cool then crush coarsely. Chicken: Use meat on bone for chicken.
BBQ