Seekh
Kabab

Product Description
Shan Seekh Kabab Mix helps you recreate the authentic buttery and tender Seekh Kababs at home.
PACKAGING
50g Serving Suggestion
Ingredients
Paprika
Red Chili
Salt
Coriander
Muskmelon
Ginger
Allspice
Long Pepper
Black Pepper
Cumin
Clove
Bay Leaf
Garlic
Roasted Chickpea
Carom
Dried Papaya Powder
Citric Acid
Maltodextrin
Sodium Phosphate
Hydrolyzed Soy Protein
Sugar
Canola Oil
Silicon Dioxide
Allergy Guide
May contain traces of Sulphite
Sesame
Mustard and Tree Nuts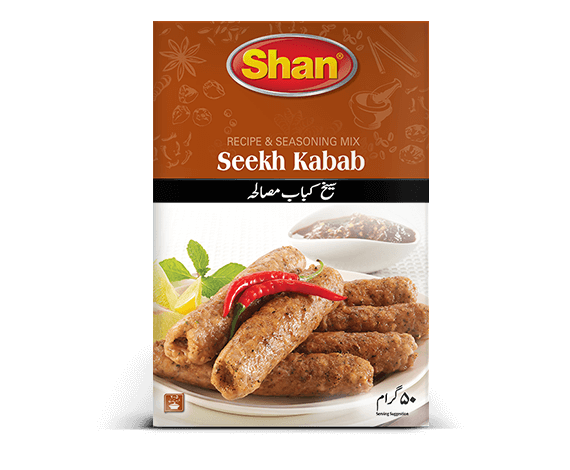 Nutritions Facts
| | |
| --- | --- |
| | |
| | |

% Daily Value*
Total Fat
1g
1%
Saturated
0g
0%
Trans
0g
Cholesterol
0mg
0%
Sodium
850 mg
37%
Total Carbohydrate
4g
1%
Dietary Fibre
2g
7%
Total Sugars
2g
2
Protein
1g
Vitamin D
0mcg
2%
Calcium
0.4mg
2%
Iron
1mg
0%
Potassium
90mg
2%
* The % Daily Value (DV) tells you how much a nutrient in a serving of food contributes to a daily diet. 2,000 calories a day is used for general nutrition advice.
COOKING
RECIPE

As per 50 gram
Ingredient Required
Ground / Minced Meat
1kg / 2.2lbs
& 200g fat/suet, minced twice

Green Chilies
2-3 tablespoons
coarsely grounded

Onion
1 small / 75g
finely diced (squeeze to remove liquid)

Cilantro/Fresh Coriander
2 tablespoons
chopped
Garlic Paste
2 tablespoons


Butter
2-3 tablespoons

Shan Seekh Kabab Mix
1 packet


Steps of Cooking
Mix all the above ingredients except butter and run in a chopper for 1 minute. Set aside for about 2-3 hours.
Add butter and mix well.
Make small round meat balls. Thread each through a skewer. Flatten the grounded meat in a thin layer around each skewer with wet
Barbeque on low heat of coal/gas grill (or in a hot oven 275°F). Periodically turn skewer, until the kababs change color. Do not over grill / brown the kabab.
Serving Suggestions: Serve with Shan
Tamarind / BBQ / Green Chutney and onion salad.
BBQ