Achar
Gosht

Product Description
Seasoning Mix For Meat In Pickle Condiments.
PACKAGING
50g
Package List
| TYPE | FORMAT | SIZE |
| --- | --- | --- |
| Sachet | Powder | 25g |
| SP | Powder | 50g |
| DP | Powder | 100g |
| Bottle | Cooking Sauce | 310g |
Ingredients
Red Chili
Salt
Turmeric
Coriander
Fennel
Fenugreek Leaves
Cumin
Cinnamon
Bay Leaf
All Spice
Nigella Seed
Black Pepper
Ginger
Green Cardamom
Maltodextrin
Hydrolyzed Soy Protein
Citric Acid
Cane Sugar
Canola Oil
Silicon Dioxide (Anticaking Agent)
Allergy Guide
May contain traces of Sulphite, Sesame, Mustard, Gluten and Tree Nuts.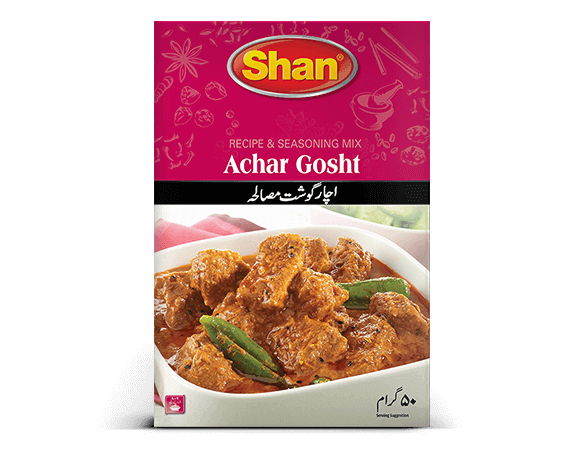 Nutritions Facts
| | |
| --- | --- |
| | |
| | |

% Daily Value*
Total Fat
1g
1%
Saturated
0g
0%
Trans
0g
Cholesterol
0mg
0%
Sodium
800mg
35%
Total Carbohydrate
0g
2%
Dietary Fibre
2g
7%
Sugars
0g
Protein
1g
Vitamin D
0mcg
0%
Calcium
50mg
4%
Iron
6%
Potassium
The % Daily Value (DV) tells you how much a nutrient in a serving of food contributes to a daily diet. 2,000 calories a day is used for general nutrition advice.
*Percent Daily Values are based on a 2,000 calorie diet.
COOKING
RECIPE

As per gram
Ingredient Required
Meat on Bones
1 kg / 2.2 lbs
small portions
Garlic Paste
1-2 tablespoons


Ginger Paste
1-2 tablespoons


Green Chilies
10 medium
slit lengthwise

Lemon Juice
3-4 tablespoons


Tomatoes
6 medium /500g
grind& sieve to make puree

Plain Yogurt
2 ½ cups / 500g
whipped

Oil
1 cup / 175ml

Shan Achar Gosht Mix
1 packet
mix in ½ cup water

Steps of Cooking
Mix 2 tablespoons of Shan Achar Gosht Mix with lemon juice and f ill the green chilies.
In hot oil add meat, garlic, ginger, yogurt and remaining Shan Achar Gosht Mix. Stir fry on high heat for 7-10 minutes.
Add 2-3 cups of water. Cover and cook on low heat until meat is tender.
Add tomato puree. Stir fry for 5-6 minutes on high heat and place green chilies over the meat. Cover and cook on low heat until oil separates from gravy.
If desired remove excessive oil before serving.
Tips: For meat, use cuts from shoulder and T-bone.
RECIPE TRANSLATION PRINTED INSIDE French, Urdu, Hindi & Bangla
Stir
Fried