Haleem
Masala

Product Description
Shan Haleem mix has a perfect blend of rich and aromatic spices to help you rejoice the authentic traditional taste of meaty and grainy Haleem Curry.
PACKAGING
50g Serving Suggestion
Package List
| TYPE | FORMAT | SIZE |
| --- | --- | --- |
| SP | Powder | 50g |
Ingredients
Salt
Red Chili
Turmeric
Black Pepper
Curry Leaf
Coriander
Nigella
Cumin
Green Cardamom
Bay Leaf
Caraway
Clove
Ginger
Dehydrated Onion
Garlic
Citric Acid
Maltodextrin
Hydrolyzed Soy Protein
Sugar
Canola Oil
Silicon Dioxide
Dried Papaya Powder
Allergy Guide
May contain traces of Sulphite
Sesame
Mustard
Gluten and Tree Nuts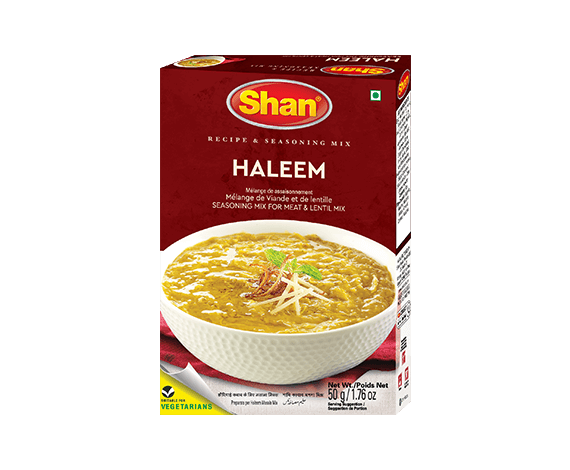 Nutritions Facts
| | |
| --- | --- |
| | |
| | |

% Daily Value*
Total Fat
1g
2%
Saturated
0g
0%
Trans
0g
Cholesterol
0mg
0%
Sodium
1250mg
52%
Total Carbohydrate
3g
1%
Dietary Fibre
2g
8%
Sugars
0g
Protein
1g
Vitamin A
4%
Vitamin C
0%
Calcium
2%
Iron
2%
*Percent Daily Values are based on a 2,000 calorie diet.
COOKING
RECIPE

As per 50 gram
Ingredient Required
Meat
400g
4-6 large boneless portion

Bones
500g
chopped

Oil/Ghee
1-2 cups


Garlic Paste
1-2tablespoons


Onion
1 medium sliced


Wheat (bulgur/cracked)
1cup / 200 g


Daal Chana / Split Yellow Lentil
½ cup / 100 g

Shan Haleem Masala
1 packet


Steps of Cooking
Heat half oil/ghee, add meat, garlic paste and Shan Haleem Mix. Stir fry for few minutes. Then add 15 cups water, lentil, wheat and bones. Cover and simmer on low heat untul meat is tender (Beef 4-6 hours, Chicken 3-4 hours)
Separate bones from curry and discard. Coarsely grind the curry with a wooden spoon or grind in a blender for 1-2 minutes. (Avoid grinding into a paste).
Cook on low heat for 1 hour. Stir occasionally. Add additional water, if needed.
Heat remaining oil/ghee and fry onion until golden. Pour into the haleem. Cover and simmer on low heat for 20-30 mintues.
Haleem