Meat
Tenderizer

Product Description
Shan Meat Tenderizer helps you with the less tender cuts of meat, making it easier for you to prepare and enjoy different meals.
PACKAGING
40g Serving Suggestion
Package List
| TYPE | FORMAT | SIZE |
| --- | --- | --- |
| SP | Powder | 40g |
Ingredients
Salt
Raw Papaya Powder
Raw Papaya Concentrate
Sugar
Humectant: Sodium Acid Pyrophosphate
Bromelain Powder
Muskmelon Powder
Anticaking Agent: Silicon Dioxide
Allergy Guide
May contain traces of Sulphite, Sesame, Mustard, Gluten and Tree Nuts.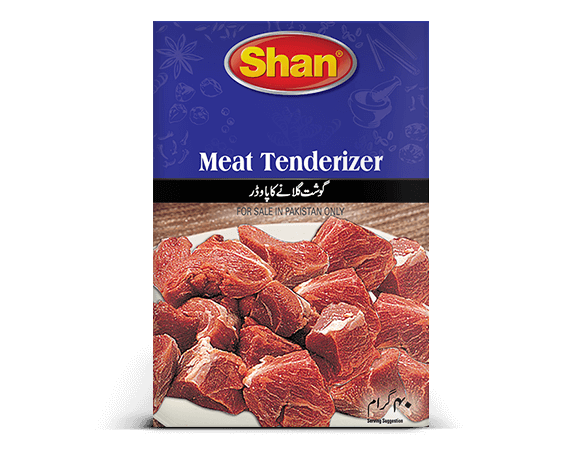 Nutritions Facts
Servings Per Container

40

% Daily Value*
Total Fat
0g
0%
Saturated
0g
0%
Trans
0g
0%
Cholesterol
0g
0%
Sodium
0g
0%
Total Carbohydrate
0g
0%
Dietary Fibre
0g
0%
Total Sugars
0g
0%
Protein
0g
0%
Vitamin D
0mcg
0%
Calcium
0.4mg
0%
Iron
0mg
0%
Potassium
0g
0%
The % Daily Value (DV) tells you how much a nutrient in a serving of food contributes to a daily diet. 2,000 calories a day is used for general nutrition advice.
COOKING
RECIPE

Steps of Cooking
Mix 1 tablespoon Shan Double Strength Meat Tenderizer Powder in 4-6 tablespoons water. Apply on meat. Set aside for 45 minutes. Then use as desired. Shan Meat Tenderizer Powder can be used to make the following more soft and delicious:
* Mutton, Beef, Prawn, Lamb and Chicken.
It is most beneficial for high altitude cooking, where normal cooking is time consuming.