Chaat
Masala

Product Description
Seasoning Mix For Tangy Spice Garnish
PACKAGING
50g Serving Suggestion
Ingredients
Salt
Red Chili
Paprika
Coriander
Cinnamon
Ginger
Aniseed
Long Pepper
Cumin
Green Cardamom
Black Pepper
Dried Mango Powder
Clove
Carom
Citric Acid
Maltodextrin
Sugar
Canola Oil
Silicon Dioxide.
Allergy Guide
May contain traces of Sulphite, Sesame, Mustard, Gluten and Tree Nuts.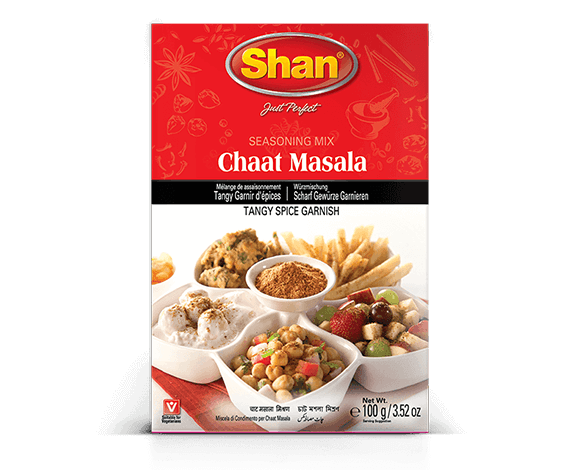 Nutritions Facts
Servings Per Container

25

% Daily Value*
Total Fat
0 g
0%
Saturated
0 g
0%
Trans
0 g
Cholesterol
0 mg
0%
Sodium
150mg
7%
Total Carbohydrate
1 g
0%
Dietary Fibre
0 g
0%
Total Sugars
0g
0
Protein
0g
Vitamin D
0mg
0%
Calcium
0mg
0%
Iron
0mg
0%
Potassium
0mg
0%
The % Daily Value (DV) tells you how much a nutrient in a serving of food contributes to a daily diet. 2,000 calories a day is used for general nutrition advice.
COOKING
RECIPE

As per 100 gram
Ingredient Required
Dal Mash / White Lentil
1 cup/200g
washed and soaked in 2 cups water for 3 hours

Rice
3 tablespoons
washed and soaked in 1 cup water for 15 minutes
Baking soda
1 teaspoon


Green chillies
2-3 medium
finely chopped

Fresh Onion Paste
½ cup

Cilantro/Fresh Coriander
2-3 tablespoons
finely chopped
Ginger paste
2 tablespoons


Garlic Paste
2 tablespoons


Shan Salt
1 tablespoon

Sugar
1 tablespoon

Yogurt
1kg
whipped and sieved through muslin cloth

Cooking Oil
500ml / 3 cups
for deep frying

Papri
1 cup
crushed

Shan Chaat Masala
3-4 tablespoons


Steps of Cooking
Drain water from the soaked white lentil and rice. Add baking soda, onion paste, ginger paste, garlic paste, Shan salt and grind in blender to a coarse batter. Add cilantro / fresh coriander and green chilies in this mixture.
In hot oil, pour few tablespoons full of batter. Fry on medium heat till golden. Remove and allow to cool. Then soak in lukewarm water for 5-10 minutes. Drain the water and gently squeeze out the dumplings to remove excess water.
Add sugar in yogurt and spread half in a dish. Add the soaked dumplings in the yogurt and pour the remaining yogurt over it. Sprinkle Shan Chaat Masala, crushed papri and serve.
Chaat