Palak
Paneer

Product Description
Palak Paneer Spinach & Cheese Mix
PACKAGING
100g Serving Suggestion
Ingredients
Salt
Coriander
Red Chili
Dried Onion
Talhar Chili
Turmeric
Mustard
Garlic
Cumin
Fenugreek Seed
Cinnamon
Ginger
Black Pepper
Brown Cardamom
Green Cardamom
Bay Leaf
Black Salt
Starch
Fenugreek Leaf
Citric Acid
Clove
Nutmeg
Mace
Silicon Dioxide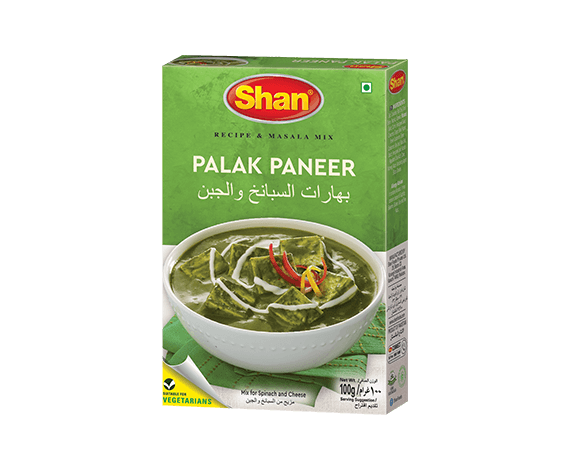 Nutritions Facts
| | |
| --- | --- |
| | |
| | |

%Daily Value*
Total Fat
1g
1%
Saturated Fat
0g
0%
Trans Fat
0g
Cholesterol
0mg
0%
Sodium
1000mg
42%
Total Carbohydrate
3g
1%
Dietary Fiber
1g
4%
Total Sugar
0g
includes 0g added sugar
0%
Protein
1g
* The % Daily Value (DV) tells you how much a nutrient in a serving of food contributes to a daily diet. 2,000 calories a day is used for general nutrition advice.
COOKING
RECIPE

As per gram
Ingredient Required
Spinach
500g, Cleaned
Washed and chopped
Cottage Cheese / Paneer
200, cubes


Tomato
100g
diced
Onion
100g,
chopped

Yogurt
100g,
whipped

Ginger Paste
2 tbsp


Garlic
2 tbsp
(Paste)

Green Chillies
2 tbsp
(Paste)

Cream
2 tbsp


Salt

Add to Taste
Cooking Oil
1/2 cup / 100ml


Shan Palak Paneer Masala
2 tbsp, / 15g


Steps of Cooking
Heat the oil in a frying pan, sauté the onion until soft lightly browned, then add the dough ginger, garlic paste and cook some seconds. Add the tomatoes and cook them until they become soft.
Add green chili paste, Palak Paneer Shan masala, yogurt and 1⁄2 cup water to make the sauce and cook for 5 minutes.
Add the spinach to the sauce and cook cook for 15 minutes over low heat. Remove fire and grind them in a mill to get a smooth paste.
Add salt if necessary, paneer and cream. Cover and cook for 5 minutes over low heat.
North
Indian