Biryani

Product Description
Shan Biryani Mix helps you in preparing the traditional Biryani at home with the authentic taste and aroma for an ultimate food experience.
PACKAGING
50g Serving Suggestion
Ingredients
Himalayan Pink Salt
Garlic
Ginger
Cumin
Bay Leaf
Brown Cardamom
Cinnamon
Carom
Green Cardamom
Clove
Red Chili
Cane Sugar
Coriander
Turmeric
Hydrolyzed Soy Protein
Maltodextrin
Canola Oil
Natural and Artificial Food Flavor
Silicon Dioxide (Anticaking Agent)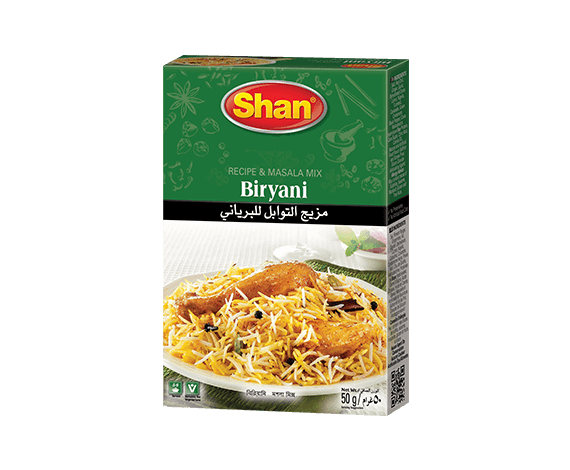 Nutritions Facts
| | |
| --- | --- |
| | |
| | |

% Daily Value*
Total Fat
1g
2%
Saturated
0g
0%
Trans
0g
Cholesterol
0mg
0%
Sodium
1340mg
56%
Total Carbohydrate
3g
1%
Dietary Fibre
1g
4%
Sugars
2g
Protein
1g
2%
Vitamin A
Vitamin C
0%
Calcium
4%
Iron
4%
Percent Daily Values are based on a 2,000 calorie diet.
COOKING
RECIPE

As per 50 gram
Ingredient Required
Meat on Bones
1 kg / 2.2 lbs
small portions
Rice, Basmati
3 ½ / 750g cups
washed & soaked

Onions
3 medium
250g, finely sliced
Tomatoes
3 medium
250g, diced

Cilantro/Fresh Coriander
½ cup
chopped
Mint Leaves
½ cup
chopped

Yogurt, Plain
1 cup/ 200g
whipped
Cooking Oil
1 cup / 175 ml


Shan Biryani Mix
1 packet
mix in ½ cup water

Steps of Cooking
Heat oil and fry onions until golden. Add meat, Shan Biryani Mix and stir fry for 5 minutes. Add yogurt and water (Beef/Lamb 4 cups, Chicken 2 cups). Cover and cook on low heat until meat is tender.
Add tomatoes and stir fry on high heat until oil begins to separate from the gravy. Then keep aside.
Separately: In 15 cups / 3 liters of boiling water, stir in 3 tablespoons of Shan Salt and soaked rice. Boil rice until ¾ cooked. Remove and drain thoroughly.
Spread half rice in a pot and pour meat curry. Top with remaining rice. (Sprinkle a pinch of yellow food color if desired). Spread fresh coriander and mint leaves on the rice. Cover and cook on low heat until rice is tender (5-10 minutes). Mix before serving.
Rice