Biryani
Sauce

PRODUCT DESCRIPTION
Shan Biryani Cooking Sauce helps you in preparing the traditional Biryani at home with the authentic taste and aroma for an ultimate food experience.
PACKAGING
350 Serving Suggestion
Package List
| TYPE | FORMAT | SIZE |
| --- | --- | --- |
| Cooking Aid | Sauce | 350g |
Ingredients
Canola Oil
Onion
Tomato
Ginger
Garlic
Coriander Leaves
Mint Leaves
Salt
Red Chili
Turmeric
Coriander
Cumin
Nigella
Clove
Black Pepper
Green Cardamom
Cane Sugar
Silicon Dioxide
Hydrolyzed Soy Protein
Citric Acid
Sodium Benzoate
Sodium Sorbate
Natural And Artificial Food Flavor
Allergy Guide
Store in a cool and dry place. Refrigerate once open.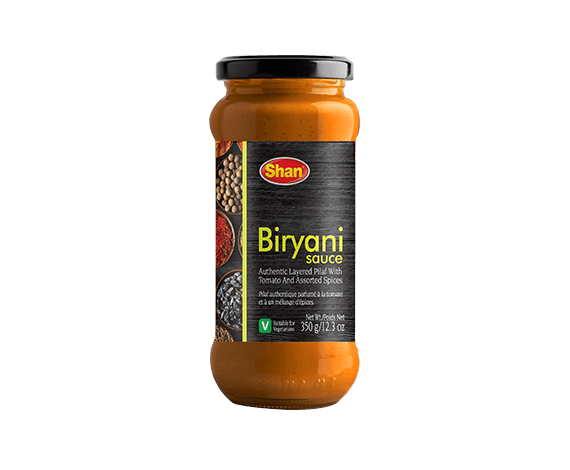 Cooking
sauces