Easy
Cook
Haleem Mix

Product Description
Mix For Meat, Lentil & Wheat Mix
PACKAGING
300g Serving Suggestion
Ingredients
Grains Mix Powder
Ground Flours of Wheat
Barley
Split Yellow Pea
Split Mung Beans
Skinless Black Gram
Red Lentil
Spice Mix Powder:
Salt
Red Chili
Paprika
Turmeric
Black Pepper
Curry Leaf
Coriander
Nigella
Cumin
Green Cardamom
Bay Leaf
Caraway
Clove
Ginger
Dehydrated Onion
Garlic
Citric Acid
Maltodextrin
Hydrolyzed Soy Protein
Sugar
Canola Oil
Silicon Dioxide
Dried Papaya Powder
Allergy Guide
May contain traces of Sulphite, Sesame, Mustard, Gluten and Tree Nuts.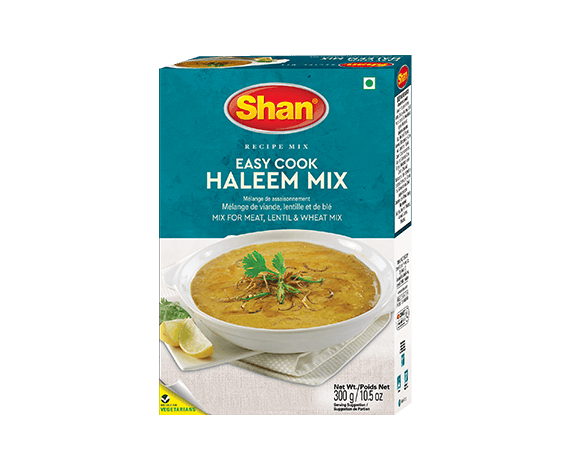 Nutritions Facts
| | |
| --- | --- |
| | |
| | |

% Daily Value*
Total Fat
2g
3%
Saturated
0g
0%
Trans
0g
Cholesterol
0mg
0%
Sodium
1080mg
47%
Total Carbohydrate
36g
13%
Dietary Fibre
6g
21%
Sugars
0g
Protein
8g
Vitamin D
0mcg
8%
Iron
2.8mg
16%
Calcium
50mg
4%
Potassium
90mg
2%
* The % Daily Value (DV) tells you how much a nutrient in a serving of food contributes to a daily diet. 2,000 calories a day is used for general nutrition advice.
COOKING
RECIPE

As per 300 gram
Ingredient Required
Meat
250g
boneless

Bones
500g
small portions

Oil / Ghee
1 cup
175ml
Onion
1 medium
finely sliced

Shan Special Shahi Haleem Mix
Contains 2 sachets
1. Shan pulses & grain mix 2. Shan Shahi Haleem Masala
Steps of Cooking
Heat half cup oil/ghee. Add meat, bones and Shan Special Haleem Masala. Stir-fry for few minutes. Then add 15 cups of water. Cover the pot or use a pressure cooker and cook until the meat is tender.
Remove from heat. Separate meat and gravy. Discard the bones.
Grind the mixture for one minute in a blender to shred the meat. In the gravy add Shan's grains and pulses mix and meat.
Stir and add 1-2 cups of water. Cook on medium heat for 30 minutes. Stir occasionally.
Heat remaining oil/ghee. Fry the onions until golden. Then pour over Haleem. Cover and cook on low heat for 10 - 15 minutes.
SERVING SUGGESTION
Garnish with finely chopped green chilies, julienne ginger, lemon juice and a dash of Shan Chaat Masala.
Haleem