Dahi
Bara
Chaat Masala

description du produit
mélange de assaisonnement mélange d'épices pour des boulettes en yaourt
EMBALLAGE
1.76 oz suggestion de portion
Ingrédients
Piment Rouge
Paprika
Sel
Coriandre
Poivre Noir
Canelle
Feuille de Laurier
Cumin
Cardamome Brune
Clou de Girofle
Poivre Long
Acide Citrique
Maltodextrine
Protéines de Soya Hydrolysées
Sucre
Huile de Canola
Dioxyde de Silicium.
Aucun Agent De Conservation
Artificielle Des Aliments
Guide des allergies
Peut contenir des traces de sulfite, sésame, moutarde, gluten et fruits à coque.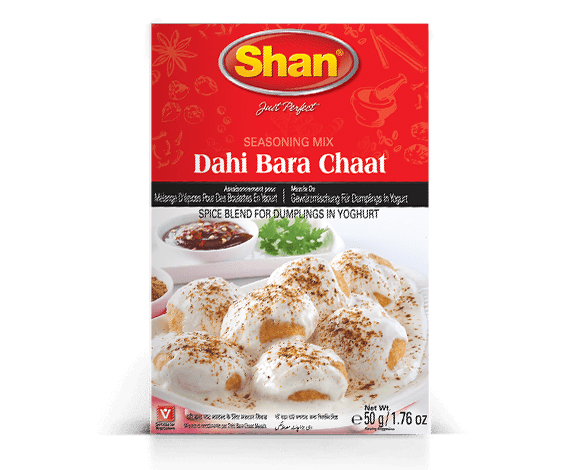 Faits nutritionnels
Servings par contenant

25

% Valeur Quotidienne*
Lipides Total
0 g
0%
Saturés
0 g
0%
Trans
0 g
Cholestérol
0 mg
0%
Sodium
290 mg
12%
Glucides Total
1 g
0%
Fibres Alimentaires
0 g
0%
Sucres Total
0 g
Protéines
2 g
Vitamine D
0mcg
0%
Calcium
0mg
0%
Fer
0mg
0%
Potassium
0mg
0%
* Le pourcentage de la valeur quotidienne (VQ) vous indique la quantité d'un élément nutritif dans une portion d'aliment qui contribue à un régime alimentaire quotidien. 2 000 calories par jour sont généralement considérées comme apports nutritifs normaux.
* Percent Daily Values are based on a 2,000 calorie diet.
RECETTE
DE CUISINE

Selon 1.76 oz grammes
Ingrédient requis
Dal Mash / White Lentil
1 cup / 200g
washed and soaked in 2 cups L`eau for 3 hours

Riz
3 tablespoons
washed and soaked in 1 cup L`eau for 15 minutes
Bicarbonate de Soude
1 teaspoon


Piments Verts
2-3 medium
finely chopped

Pâte d'oignon frais
½ cup


Cilantro/Fresh Coriander
2-3 tablespoons
finely chopped
Gingembre Pâte
2 tablespoons

Ail Pâte
2 tablespoons

Shan Le Sel
1 teaspoon

Sucre
1 tablespoon

Yaourt
1kg, whipped and sieved through muslin cloth


Huile de cuisson
Huile de cuisson
for deep frying

Papri
1 cup
crushed

Dahi Bara Chaat
3-4 tablespoons


Étapes de la cuisson
Egouttez l'eau des lentilles blanches (1 tasse lavée et trempée dans 2 tasses d'eau pendant 2 heures) et du riz (3 cuillères à soupe, lavé et trempé dans 1 tasse d'eau pendant 15 minutes). Ajoutez 1 cuillère à café de bicarbonate de soude, une demi-tasse de pâte d'oignon, 2 cuillères à soupe de pâte de gingembre, 2 cuillères à soupe de pâte d'ail, 1 cuillère à café de Shan Salt et moulez-les dans un mixeur jusqu'à une pâte grossière. Ajoutez dans ce mélange 2-3 cuillères à soupe de coriandre fraîche finement hachée et 2-3 piments verts moyens coupés en tranches fines.
Dans 3 tasses d'huile chaude, versez-y quelques cuillères à soupe plein de pâte. Faites frire à feu doux jusqu'à ce que la pâte soit dorée. Retirez du feu et laissez refroidir. Ensuite laissez-la tremper dans l'eau tiède pendant 5-10 minutes. Faites égouttez l'eau et pressez doucement les boulettes de pâte pour retirer l'excès d'eau.
Ajoutez 1 cuillère à soupe de sucre dans 1 kg du yaourt (fouetté et passé par un tissu de mousseline) et étendez la moitié dans un plat. Ajoutez les boulettes trempées dans le yaourt et versez au-dessus le reste du yaourt.Saupoudrez Shan Chaat Masala (3-4 cuillères à soupe), 1 tasse Papri écrasé et servez.
Chaat