ABOUT
US

OUR
VISION
Shan to become an iconic culinary brand enjoyed on every table every day across the world.
OUR
PROMISE
Delivering the finest quality ingredients to tantalize your taste buds with rich and authentic flavours from across the world
Our
Journey

The journey of Shan's remarkable success starts from 1981 when the dream of one man became a reality.
A visionary entrepreneur, an avowed humanist and a committed philanthropist, Mr. Sikander Sultan, Chairman, Shan Foods (Pvt.) Ltd, helped pave the way to success by pioneering in the spice business with a single room operation.
Initially, recipe mixes were only shared within the broader family but in a very short span of time they gained popularity and orders started pouring in from friends, acquaintances and general consumers. Overtime, the company prospered and Mr. Sultan decided to launch his very own brand, "SHAN" and since then there has been no turning back!
Today, Shan is a powerful global brand that has presence in over 70 countries across 5 continents.
research &
development
At Shan Foods, our Research & Development comprises of a team of experts and culinary food scientists who work directly with the Board of Directors.
These dedicated professionals work religiously to deliver an enticing world of flavors and innovative food products under direct supervision of our board.
This reflects in our diverse range of high quality food products while maintaining a wide range of successful recipes mixes that have already left a mark within the spice industry across the globe.
Our modern R&D lab is equipped with high-end commercial kitchen and state-of-the-art equipment to accelerate and aid innovation. This also includes sensory facilities for objective evaluation of the different characteristics in our finished products. With its extensive resources, Shan's R&D continuously explores new ideas and strives to develop trending prototype food products.
quality
operations

At Shan Foods, upholding quality is the base of what we stand for. We strive to set our Quality Operations as a benchmark for the industry at large.
Our mission is to provide our consumers with supreme standards of product quality, safety and consistency.
Our Quality Control department regularly monitors the different phases of production from research & development to packaging and distribution while conforming to national and international regulation and legislation. This ensures highest quality at each stage of production for our consumers to safely enjoy our food products.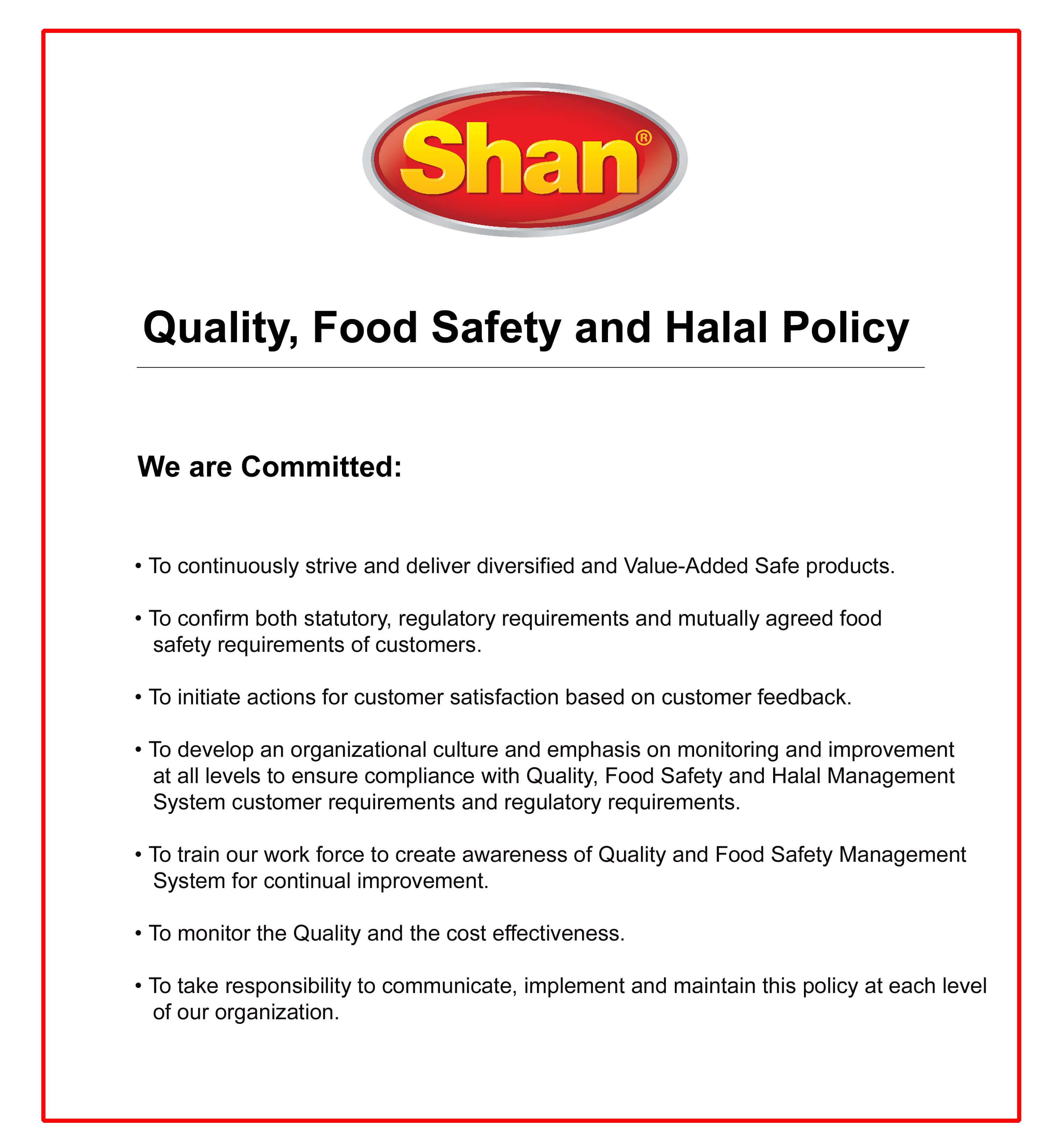 Industrial Quality Checks
At Shan Foods, products across all categories are manufactured, packed, stored and transported under the most hygienic conditions while maintaining international quality standards. This is made possible through regular quality checks and audits involving rigorous inspection of all products as per international best practices.
Inspection of raw materials, semi-finished products and finished goods is done for a thorough examination at all stages of production in addition to product shelf-life study and analysis of market samples. Quality checks are also conducted at all levels of production which are detailed and intricate such as specialized chemical physical testing and microbiological evaluation of ingredients and products.
Innovation in Quality Assurance
As pioneers in Pakistan's packaged spice industry, we have incorporated Cryogenic Grinding Technology that preserves the natural components and aroma of raw spices through the use of liquid nitrogen. This not only ensures that all heat-sensitive oils are kept intact during the grinding process but also establishes hygienic grinding practices that keeps the food free of bacteria.
V-LOCK Technology
Shan Foods is the only organization in the domestic spice industry which uses food-grade nitrogen & aluminum foil packaging to preserve freshness and quality also known as V-Lock Freshness. This process ensures air tight packing of products to maintain high quality taste, appearance, aroma and texture.
HEALTH, SAFETY
AND

ENVIRONMENT POLICY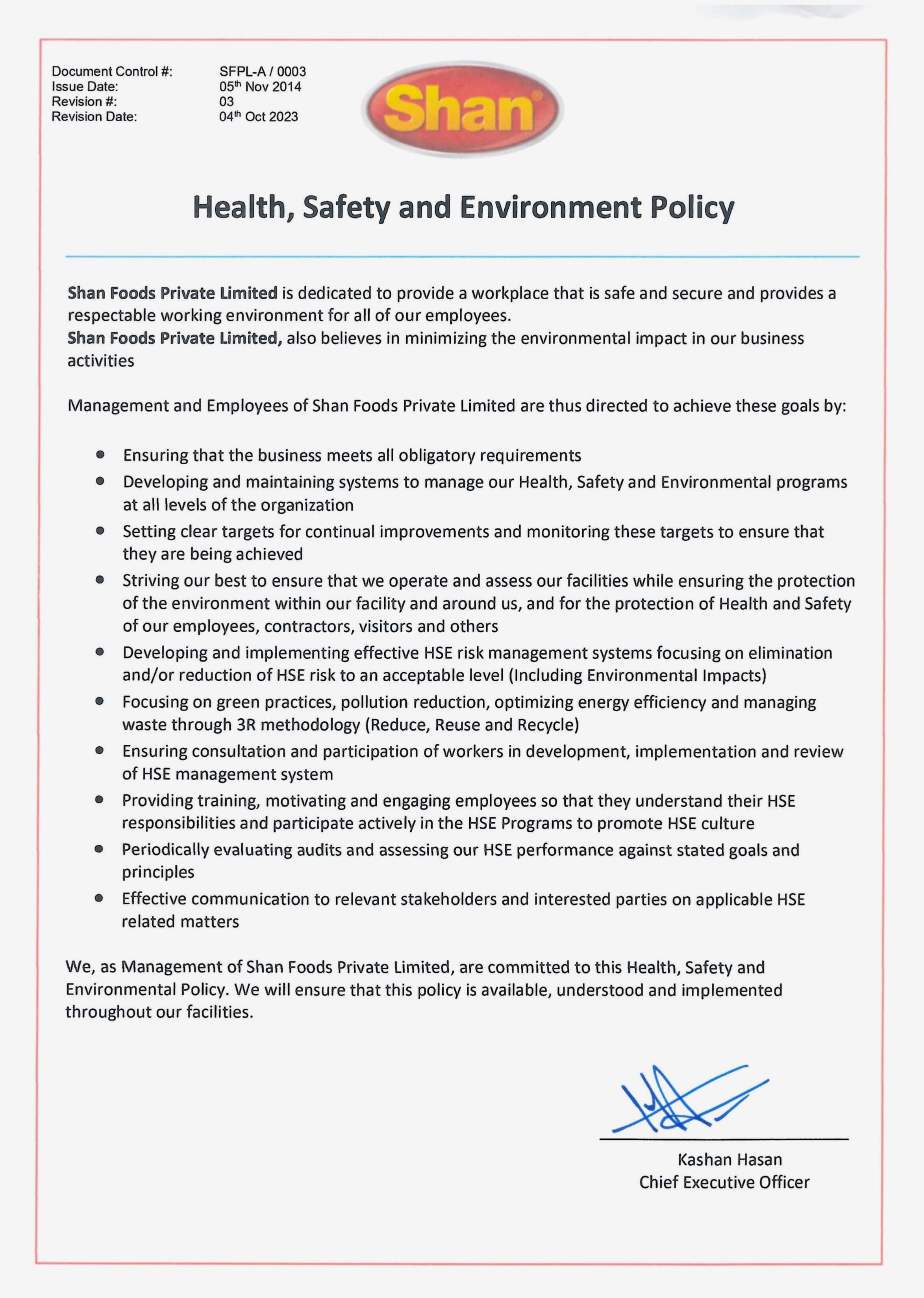 GLOBAL CERTIFICATIONS
ISO 9001 : 2015
Quality Management System
FSMS 22000
Food Safety Management System

BRC Global Standard For Food Safety
British Retail Consortium Issue

SANHA Halal Certification
South African National Halal Authority

JAKIM Halal Certification
Jabatan Kemajuan Islam Malaysia

PSQCA product certifications
All mandatory food products

SEDEX
Supplier Ethical Data Exchange
FDA
Facility Registration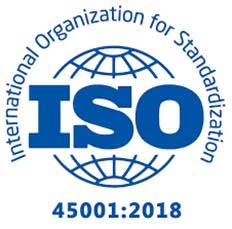 ISO 45001 : 2018
Health Safety