Chicken
Broast

Product Description
Mix For Spicy Batter Coated Fried Chicken
PACKAGING
50g Serving Suggestion
Package List
| TYPE | FORMAT | SIZE |
| --- | --- | --- |
| SP | Powder | 125g |
Ingredients
Extra Fine Wheat Flour
Salt
Red Chilli
Dehydrated Onion
Garlic
Cumin
Ginger
Black Cumin
Carom
Bay Leaf
Fenugreek Leaves
Acid: Citric Acid
Turmeric
Green Cardamom
Maltodextrin
Hydrolyzed Soy Protein
Cane Sugar
Canola Oil
Raising Agent: Sodium Bicarbonate
Anticaking Agent: Silicone Dioxide
Allergy Guide
May Contain Traces of Sulphite, Sesame, Mustard and Tree Nuts.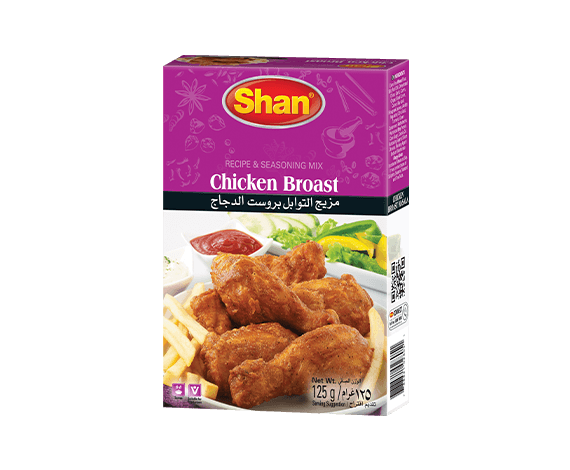 Nutritions Facts
Servings Per Container

13

% Daily Value*
Total Fat
0g
0%
Saturated
0g
0%
Trans
0g
Cholesterol
0mg
0%
Sodium
480mg
21%
Total Carbohydrate
7g
3%
Dietary Fibre
2g
7%
Sugars
0g
Protein
1g
Vitamin D
0%
Calcium
0mg
2%
Iron
0mg
0%
Potassium
2%
* The % Daily Value (DV) tells you how much a nutrient in a serving of food contributes to a daily diet. 2,000 calories a day is used for general nutrition advice.
COOKING
RECIPE

As per 150 gram
Ingredient Required
Chicken
1½ kg, 8 large portions
washed & drained

Cooking Oil
3 cups / 500g
for deep frying

Lemon Juice
2 tablespoons


Shan Chicken Broast Mix
1 packet


Steps of Cooking
Mix lemon juice and 1tsp of Shan salt and rub all over the chicken pieces. Cover and marinate for at least 3-4 hours.
Coat chicken pieces in Shan Chicken Broast Mix and keep it in fridge for 15 minutes. Before frying again coat the chicken pieces in remaining broast mix.
Heat oil and fry chicken pieces to a crisp golden color.
Serving Suggestion
Serve hot with Shan Tamarind chutney/Tomato Ketchup.
Hot & Spicy Broasted Chicken
Follow the directions given above for Chicken Broast and complete until Step No. 1. Then take additional ingredients: ½ cup crushed Potato Chips, ½ cup crushed Corn Flakes, mixed together.
Add Shan Chicken Broast Mix in ½ cup of cold water to make a thin paste. Dip the chicken pieces in the batter and roll each in the Corn Flakes and Potato Chips mixture. Then deep fry until crisp and golden.
Bohri Fried Chicken
Follow the directions given above for Chicken Broast and complete until Step No. 1. Take additional ingredients: 1 tablespoon garlic paste, 1 tablespoon ginger paste, ½ tablespoon grounded green chillies and 2 tablespoons water. Mix and blend to make a paste.
Apply the paste to the chicken pieces. Then sprinkle Shan Chicken Broast Mix evenly over them.
Whisk 3 eggs until stiff and dip the chicken pieces in it and deep fry in hot oil until golden.
Fried