Chapli
Kabab

Product Description
Shan Chapli Kabab Mix enables you to experience the authentic traditional taste of delicious Pashtun-style Chapli kababs.
PACKAGING
100g Serving
Package List
| TYPE | FORMAT | SIZE |
| --- | --- | --- |
| SP | Powder | 100g |
Ingredients
Wheat Flour
Himalayan Pink Salt
Red Chili
Coriander
Cumin
Ginger
Garlic
Dehydrated Onion
Pomegranate Seeds
Black Pepper
Black Cumin
Cinnamon
Bay Leaves
Fenugreek Leaves
Carom
Dried Mango Powder
Maltodextrin
Hydrolyzed Soy Protein
Cane Sugar
Canola Oil
Citric Acid
Silicon Dioxide (Anticaking Agent)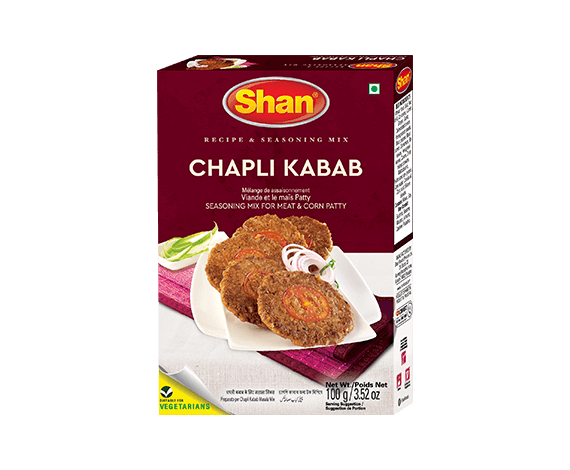 Nutritions Facts
Serving Size:

1 tbsp (8 g)

Servings Per Container

13

Servings Par Contenant

13

% Daily Value
Total Fat
1 g
2%
Saturated
0 g
0%
Trans
0 g
Cholesterol
0 mg
0%
Sodium
1190 mg
50%
Total Carbohydrate
3 g
1%
Dietary Fibre
1 g
4%
Sugars
1 g
Protein
1 g
Vitamin A
8%
Vitamin C
0%
Calcium
2%
Iron
4%
Percent Daily Values are based on a 2,000 calorie diet.
COOKING
RECIPE

As per 100 gram
Ingredient Required
Ground/Minced Meat
750g (600g meat + 150 g fat / suet)


Tomatoes
1-2 medium, thin round slices


Onions
250g / 3 medium, very finely diced & squeeze in a cloth to remove liquid

Green Chilies
4-6 medium, finely chopped


Ginger Paste
2 tablespoons


Garlic Paste
3 tablespoons


Cilantro/Fresh Coriander
3 tablespoons, chopped

Eggs
1-2, whisked


Cooking Oil
500 ml / 3 cups, for shallow frying


Shan Chapli Kabab Mix
1 packet, mix in ½ cup water


Steps of Cooking
Mix all the above ingredients except oil and knead well. Set aside and marinate for 30 minutes.
Make thin flat kabab / patties with wet hands and paste a slice of tomato on one side. Shallow fry until crisp brown on both sides. Serving Suggestion: Serve hot with diced fresh salad and Shan Tamarind / Green Chutney. Tips for Best Result: For a richer taste, add 100 - 200g beef bone marrow and ½ cup maize flour in the above ingredients.
Fried