Keema

Product Description
Seasoning Mix For Delicious Stir-fried Ground Meat
PACKAGING
50g
Ingredients
Salt
Red Chilli
Dried Plums with Pits
Coriander
Garlic
Dehydrated Onion
Turmeric
Black Cumin
Ginger
Bay Leaf
Fenugreek Seeds
Brown Cardamom
Green Cardamom
Cinnamon
Black Pepper
Clove
Citric Acid
Maltodextrin
Hydrolyzed soy protein
Sugar
Canola oil
Silicon dioxide
Dried papaya powder
Natural and artificial food flavors (pandanus tectorial).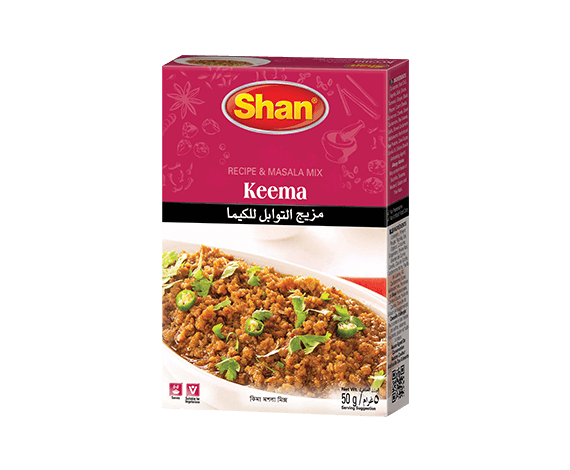 Nutritions Facts
| | |
| --- | --- |
| | |
| | |

%Daily Value*
Total Fat
1 g
2%
Saturated
0 g
0%
Trans
0 g
Cholesterol
0 mg
0%
Sodium
910 mg
38%
Total Carbohydrate
4 g
1%
Dietary Fiber
1 g
4%
Sugar
0 g
Protein
1 g
Vitamin A
4%
Vitamin C
0%
Calcium
2%
Iron
4%
*Percent daily value is based on a 2000 calories diet.
COOKING
RECIPE

Steps of Cooking
Heat 1 cup of cooking oil, fry 3 medium onions finely chopped until transparent, add 1-2 1-2 tablespoons garlic paste tablespoons ginger paste, Shan Keema Mix (1 packet dissolved in ½ cup of water) and 1 kg of meat minced / pass through a mincer. blow up until the liquid is almost dry.
Add 2 medium diced tomatoes and 1-2 cups of water. Cover and cook over low heat (20-30 minutes) until the meat is tender tender.
Add 3-4 medium, chopped green chiles finely, 2 tbsp. coriander / chopped fresh coriander and cook until what the oil separates from the meat. Stir frequently. For the sauce: Add 1-2 cups of water and bring to a boil. Then simmer over low heat for 10 minutes. Drain excess oil before serving, if desired Serving Suggestions: Serve with Roti/Naan hot.
Curry