Gulab
Jaman
Mix

Product Description
Mix for Sweet dumpling with sugar syrup
PACKAGING
100g Serving Suggestion
Ingredients
Milk Solids (Milk)
Patent Flour (Wheat)
Sugar
Sunflower Oil
Sodium Bicarbonate
Tartaric Acid
Green Cardamom
Saffron
Salt
Allergy Guide
May contain traces of Tree Nuts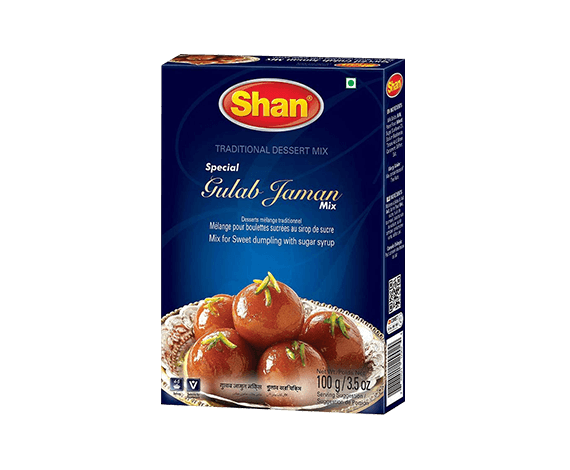 Nutritions Facts
| | |
| --- | --- |
| | |
| | |

% Daily Value*
Total Fat
3 g
5%
Saturated
2g
10%
Trans
0 g
Cholesterol
10 g
3%
Sodium
200 mg
8%
Total Carbohydrate
8 g
3%
Dietary Fibre
0 g
0%
Sugars
5 g
Protein
3 g
Vitamin A
2%
Vitamin C
2%
Calcium
10%
Iron
0%
*Percent Daily Values are based on a 2,000 calorie diet.
COOKING
RECIPE

As per 100 gram
Ingredient Required
Oil/Ghee
2 Cups (350g)


Sugar
1 ¼ Cups (250g)

Shan Special Gulab Jaman Mix
1 packet (75g)


Steps of Cooking
In a small pot dissolve the sugar in one glass of water. Boil for about 3 minutes and remove from heat.
SEPARATELY: Mix together one tablespoon ghee, 3-4 tablespoons of water and Shan Special Gulab Jaman Mix. Knead and make soft smooth dough. Then Shape it into about 15 round balls. Make sure the surface of balls is free of cracks.
Heat the ghee on low heat in a small frying pan. To test the right temperature of the ghee, add one ball. It should slowly rise to the surface from the bottom of the pan with a touch of a spoon.
Note :
i) If the jaman/balls does not rise to the surface then the ghee needs to be heated more.
ii ) If the jaman rises too fast to the surface and begins to change color, then the temperature is too high and the heat needs to be lowered. Allow the ghee to cool down for a while. Jamans fried in hot oil will have their center uncooked and hard.
Add the balls at the right temperature of ghee. Take a round sieved spoon and turn the balls by rotating the bottom edge of the spoon against the top of the balls. Keep rotating until the jamans turn light golden. Remove, drain fat, add to the hot sugar Syrup. (Heat the sugar syrup on low heat, while frying the jamans).
Cook the jamans in the syrup for about 3 minutes, on very low heat. Remove from heat and serve after 20 minutes.
Desserts