Shahjahani
Achar
Gosht Masala

Product Description
Prepared with good quality spices, Maa brings you Shahjahani Achar Gosht Masala so you can rejoice delicious and tangy traditional Achar Gosht at an affordable price.
PACKAGING
20g
Package List
| TYPE | FORMAT | SIZE |
| --- | --- | --- |
| Sachet | Powder | 20g |
Ingredients
Red Chili
Salt
Black Pepper
Clove
Black Cardamom
Cinnamon
Ginger
Coriander
Fenugreek Leaves
Dried Garlic
Turmeric
Fennel Seeds
Cumin
Garlic
Dried Ginger
Fenugreek Leaves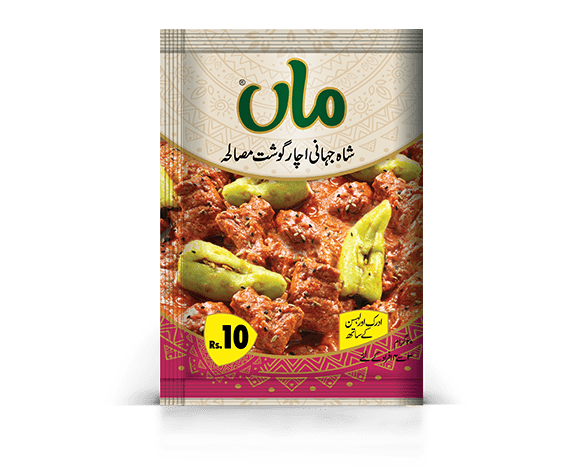 COOKING
RECIPE

As per 20 gram
Ingredient Required
Meat
400 gm
small cubes

Green Chilies
4-5


Tomato
300 gm
finely sliced
Lemon Juice
2-3 tbsp


Yogurt
150 gm
whipped

Oil/Ghee
½ cup


Shahjahani Achar Gosht Masala
1 packet


Steps of Cooking
In hot Ghee add meat and ¾ quantity of Maa Shahjahani Achar Ghost Mix. Stir fry for 2-3 minutes.
Add tomatoes and stir fry for 4-5 minutes. Add Yogurt, 1-2 cups of water and Cover and cook on low heat until meat is tender.
Fill the green chilies with Maa Shahjahani Achar Ghost Mix and lemon juice. Cook on low heat until oil separates from gravy.
Recipe
Mixes