Kunna

Product Description
Shan Kunna mix helps you recreate the ethnic flavor of Chiniot which is one of a kind divine and velvety traditional Curry.
PACKAGING
50g Serving
Package List
| TYPE | FORMAT | SIZE |
| --- | --- | --- |
| SP | Powder | 50g |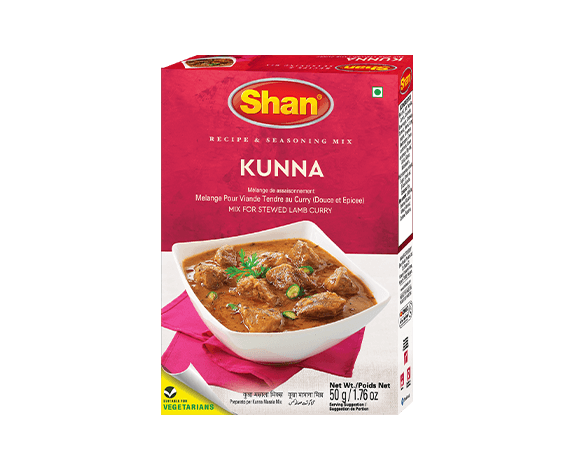 COOKING
RECIPE

As per 50 gram
Ingredient Required
Mutton
1 kg
large portions
Onion
1 medium
finely sliced

Garlic Paste
2 tablespoons


Flour
2-3 tablespoons


Oil/Ghee
1 ½ cups / 250g


Kunna
1 packet


Steps of Cooking
Heat ghee/oil, add onion, garlic, meat and Shan Kunna Matka Gosht Masala.
Fry for few minutes. Add one glass of water and cover the pot and keep a weight on the lid or use a pressure cooker.
Cook on very low heat until the meat is completely tender, about 6-8 hours.
Curry