Chicken
Jalfrezi

Product Description
Shan Chicken Jalfrezi Mix gives you the authentic traditional taste of Indian / Chinese Chicken and Vegetable Curry.
PACKAGING
50g
Package List
| TYPE | FORMAT | SIZE |
| --- | --- | --- |
| SP | Powder | 50g |
Ingredients
Salt
Coriander
Red Chili
Garlic
Ginger
Black Pepper
White Pepper
Turmeric
Black Cumin
Acid: Citric Acid
Carom
Acid: Tartaric Acid
Soya
Maltodextrin
Hydrolyzed Soy Protein
Cane Sugar
Canola Oil
Anticaking Agent: Silicon Dioxide
Allergy Guide
May contain traces of Sulphite, Sesame, Mustard, Gluten and Tree Nuts.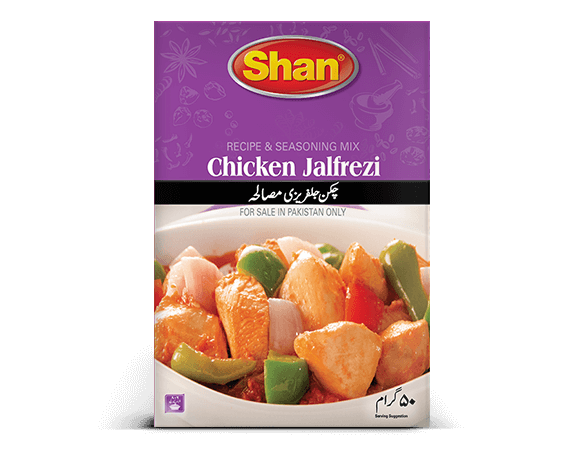 Nutritions Facts
| | |
| --- | --- |
| | |
| | |

% Daily Value*
Total Fat
1g
2%
Saturated
0g
0%
Trans
0g
Cholesterol
0mg
0%
Sodium
910 mg
38%
Total Carbohydrate
4g
1%
Dietary Fibre
1g
4%
Sugars
0g
Protein
1g
Vitamin A
0%
Vitamin C
0%
Calcium
0%
Iron
0%
Percent Daily Values are based on a 2,000 calorie diet.
COOKING
RECIPE

As per 50 gram
Ingredient Required
Chicken
1kg
small boneless cubes

Tomatoes
1 kg
250g cut into 1" square cubes, 750g, finely chopped

Onions
2 medium / 200g
chopped into 1" square pieces
Green Capsicums
2
chopped into 1" square pieces/100g
Green Chilies
4 large
slit lengthwise

Cooking Oil
3 tablespoons - ½ cup


Shan Chicken Jalfrezi
Jalfrezi Mix 1 packet


Steps of Cooking
Mix Shan Chicken Jalfrezi Mix in half cup of water and apply to chicken cubes. Marinate for 30 minutes.
Boil finely chopped tomatoes in 1 cup of water until soft and tender. Sieve to remove skin and seeds. Keep tomato puree aside.
Heat oil and add marinated chicken cubes. Stir-fry for about 5 minutes.
Then add the tomato puree. Cover and cook on low heat for about 15 minutes.
Add onion, capsicum, silted green chilies. Stir-fry for 1-2 minutes and remove from heat. Serve hot Chicken Jalfrezi with plain boiled rice or boiled noodles.
Stir
Fried