Karahi

Product Description
Shan Karahi Mix helps you prepare delicious and mouthwatering traditional Karahi for a perfect mealtime experience.
PACKAGING
50g Serving Suggestion
Package List
| TYPE | FORMAT | SIZE |
| --- | --- | --- |
| Sachet | Powder | 25g |
| SP | Powder | 50g |
| DP | Powder | 100g |
| Bottle | Cooking Sauce | 310g |
Ingredients
Red Chilli
Paprika
Salt
Brown Cardamom
Garlic
Coriander
Fenugreek Leaves
Green Cardamom
Cinnamon
Clove
Black Pepper
Cumin
Bay Leaf
Onion
Carom
Dried Papaya Powder
Maltodextrin
Hydrolyzed Soy Protein
Cane Sugar
Canola Oil
Acid: Citric Acid
Anticaking Agent: Silicon Dioxide
Allergy Guide
May contain traces of Sulphite, Sesame, Mustard, Gluten and Tree Nuts.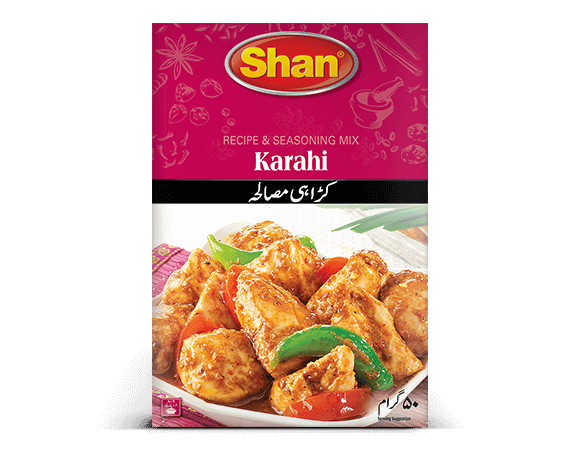 Nutritions Facts
Servings Per container about

6

Calories from fat
% Daily Value*
Total Fat
1g
2%
Saturated
0g
0%
Trans
0g
Cholesterol
0mg
0%
Sodium
910mg
38%
Total Carbohydrate
4g
1%
Dietary Fibre
1g
4%
Sugars
1g
Protein
1g
Vitamin A
4%
Vitamin C
0%
Calcium
2%
Iron
4%
Percent Daily Values are based on a 2,000 calorie diet.
COOKING
RECIPE

As per 50 gram
Ingredient Required
Meat
(1½ kg / 3.3 lbs
small cubes

Tomato
6-7 medium / 500g
diced
Garlic crushed
2 tablespoons

Ginger Paste
1 tablespoon


Green Chillies
6 medium
whole

Cilantro/Fresh Coriander
Cilantro/Fresh Coriander
chopped
Oil
1½ cups / 275 m

Butter
½ cup / 85g

Shan Karhai / Fry Gosht
1 packet
mix in ½ cup water

Steps of Cooking
Mix garlic, ginger paste and Shan Karahi Mix. Apply to meat and marinate for (Chicken 15 minutes, Goat/ Lamb/ Beef 1-2 hours +).
Heat one cup oil and stir fry meat on high heat for 5-6 minutes. Add julienne ginger. Cover and cook on low heat until meat is tender (Chicken 10 minutes, Goat / Lamb / Beef 45 minutes).
Separately heat ½ cup oil and add tomatoes. Cook on low heat until soft (5-6 minutes). Stir periodically.
Add cooked tomatoes and green chillies to the cooked meat. On medium heat stir-fry meat until oil separates from masala. Stir constantly. If desired remove excessive oil. Add fresh coriander and butter. Stir fry and serve with hot naans.
Stir
Fried