Memoni
Biryani

Product Description
Shan Karachi Beef Biryani Mix with its classic blend of rich and aromatic spices imparts the perfect flavor to beef and helps you recreate the true Biryani flavor.
PACKAGING
60g Serving Suggestion
Package List
| TYPE | FORMAT | SIZE |
| --- | --- | --- |
| SP | Powder | 60g |
Ingredients
Salt
Turmeric
Paprika
Red Chili
Dill Seed
Green Cardamom
Black Pepper
Clove
Brown Cardamom
Cumin
Allspice
Ginger
Garlic
Dried Papaya Powder
Acid: Citric Acid
Maltodextrin
Hydrolyzed Soy Protein
Cane Sugar
Canola Oil
Anticaking Agent: Silicon Dioxide
Natural And Artificial Food Flavor.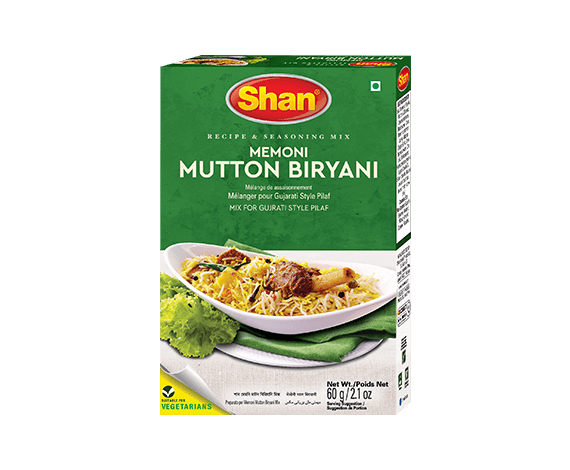 Nutritions Facts
| | |
| --- | --- |
| | |
| | |

% Daily Value*
Total Fat
1g
2%
Saturated
0g
0%
Trans
0g
Cholesterol
0mg
0%
Sodium
1320mg
55%
Total Carbohydrate
4g
1%
Dietary Fibre
2g
8%
Sugars
1g
Protein
1g
Vitamin A
2%
Vitamin C
0%
Calcium
2%
Iron
4%
Percent Daily Values are based on a 2,000 calorie diet.
COOKING
RECIPE

As per 60 gram
Ingredient Required
Meat
750g
meat on bone

Rice Basmati
750g
washed & soaked for 30 minutes

Onions
3-4 medium / 400g
finely sliced
Potatoes
2 medium / 250g
peeled & halved
Tomatoes
4 medium / 300g
diced

Plain Yogurt
1¼ cups / 250g
whipped

Garlic Paste
3 tablespoons


Ginger Paste
2 tablespoons


Green Chilies
10 medium / large
whole

Lemon Juice
3-4 tablespoons / 2 lemons


Oil/Ghee
1 ½ cup / 250ml


Shan Memoni Biryani
1 Packet


Steps of Cooking
Heat one cup ghee/oil and fry onions until light golden.
Add meat, garlic, ginger and stir fry for a minute. Add Shan Memoni Mutton Biryani Mix and stir fry for 5-6 minutes.
Add 3-4 cups water, yogurt and potatoes. Cover and cook on low heat until the meat is tender.
Add tomatoes, green chilies and lemon juice. Stir and remove from heat.
Separately: In 15 cups / 3 liters boiling water, stir in 3 tablespoons of Shan Salt and soaked rice.Boil rice until ¾ cooked. Remove and drain thoroughly.
Spread three quarter boiled rice in a pot and pour cooked meat curry over it. Then spread the remaining rice over the meat curry. Cover and cook on low heat for 10 minutes.
Heat the remaining ½ cup oil/ghee and pour over the rice. Turn the rice from bottom to top to mix at few places. Cover and cook for 5 minutes.
Rice